I have blue hair.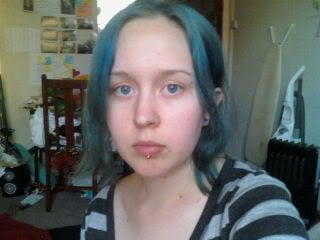 I dyed it last night. I used some really good dye. I used Fudge Paintbox dye which is the best coloured dye I've ever used. My mum used it to put pink in my hair when I was a lot younger and I used to wear a red bandanna over it. A couple of years ago I dyed all my hair bright pink and it looked amazing. A lady on the bus asked me if I was a rockstar and countless little girls walked past me with their parents pointing at me and saying they wanted hair like mine. SO. I went online and found a person on amazon who sold that particular kind of dye in the UK and I got a colour called 'blue hawaii'.
But yeah! This is a terrrrible picture because it's just a phone one I took to post on twitter. You can also see what a mess my desk is. Whoops.
Today I'm going to watch Sleeping Beauty. In my hunt for interesting facts and things, I discovered this, which is supposedly an early version of the story:
Sun, Moon and Talia (click)
I thought it was interesting (also if you don't understand the story, while slightly different, the plot on the
wikipedia page
makes way more sense).
Aaaanyway, I've been doing this project...I'm doing 200 portraits of all different people who send me their photos. Someone even sent me a picture of their horse. You can do it too:
C
LICK!
You can see some of the pictures there, but here are a couple of my favourites:
Paloma(13/200) and Sarah (1/200)
So yeah. That's what's going on.
I also did a brief interview for
Monster Girl Writes
(which is a brilliant blog, by the way) and if that goes up, I'll post a link here.
Later, dudes.
A.